NME:
Cover: Megan thee Stallion on being a modern Renaissance woman, breaking the internet and "part two of the civil rights movement"
"In a world that is often especially harsh and dismissive towards black womxn – even within the world of hip-hop – it's almost historic for the next generation to witness Megan build a world and brand so authentic to her experience, and for her to live it with unadulterated confidence, beauty and success.
Her modern-day mantras are recited globally, out loud at her shows, online and in headphones. In the three years she's been releasing music, Megan Thee Stallion has already been able to instil her – mostly black, femme-identifying and young – fanbase with a vitality often more readily associated with her more veteran counterparts. And she's done it through genuine visibility and representation. "I try to put confidence in my fans when I'm rapping, because when you repeat after me, you need to really believe in what you're saying!" she says."
Crack Magazine:
Cover: Unknown T wants to be seen
"Unknown T is having a hell of a week.
It's early August and the east London drill artist is in the thick of the promotional phase of his debut mixtape Rise Above Hate. Whether it's starring in comedy sketches with fitness beast Armz Korleone or hosting listening parties on No Signal Radio, not to mention his long-overdue link up with internet persona Unknown P, he's impossible to miss across social media. On the day of the interview, he's busy filming YouTube reaction videos but breaks from the session to jump on Zoom. I mention that it's clear he's having a lot of fun with his return back to music over the last few months. He beams and coyly asks in his bassy, rumbling voice: "Have you noticed?"
Born Daniel Lena and raised in Homerton in the borough of Hackney, Unknown T crashed onto the UK rap scene in early 2018. An incendiary Mad About Bars freestyle served as introduction to his distinctive style, a blaze of UK slang over hard drill beats, before his debut smash Homerton B cemented him as one of the most exciting voices to come out of the capital, establishing his name, his area and his ability to bring drill to the clubs too – the addictive catchphrase "bend your back and just dig it" lit up every party for months. In seemingly no time at all, Lena had put drill music on the radar of the broadsheets, the fashion press and in the charts (Homerton B peaked at No. 48). Harnessing that momentum, collaborating with the likes of Crazy Cousinz, WSTRN and AJ Tracey by the summer of 2019."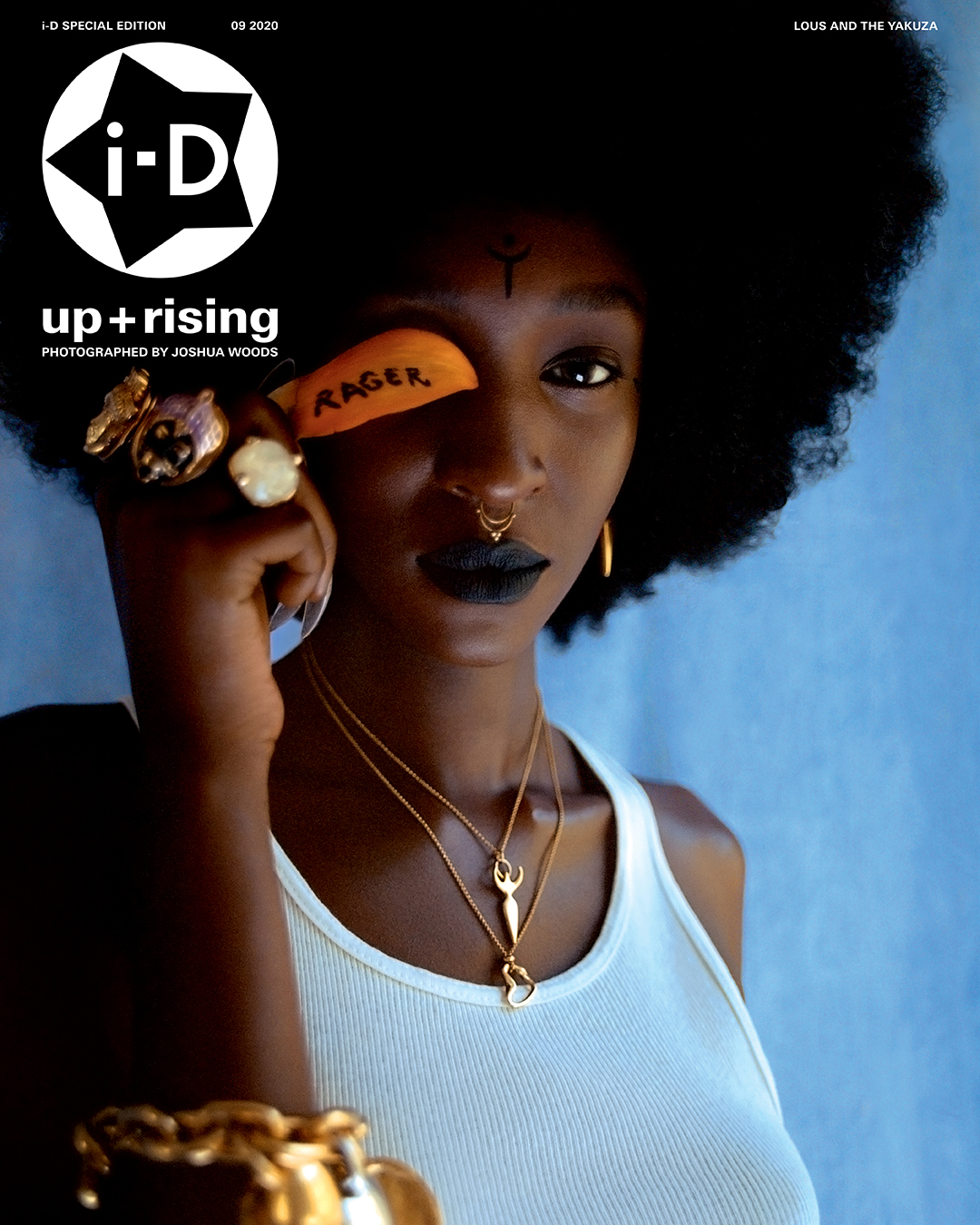 i-D:
Within a record-breaking one minute of pleasantries, Lous and I are already talking about the injustices of colonialism. "Since when do people ever talk about Africa?" she asks sarcastically. We jumped from polite small talk about the 'new normal' of our post-Covid world into the depths of Western disregard for the continent in 60 seconds flat and it's a promising first sign.
Huck Magazine:
"The 26-year-old rapper talks pressure, pain and what it was like growing up as a first-generation African immigrant in the 'whitest city in America'.
In today's climate of algorithmic releases and access-all-areas approaches to social media, it's rare for an artist to constantly keep people guessing. But
Aminé
seems to actively enjoy it.
With his 2017 pop-rap debut Good For You, to the angular hip hop of 2018 mixtape ONEPOINTFIVE and the reflective lyricism of his new album Limbo, the 26-year-old remains a refreshing enigma: an artist constantly striving to express his most authentic self, while continuing to grow and push boundaries in the process.The Portland artist, née Adam Aminé Daniel, first catapulted into the public consciousness in 2016 when his viral banger 'Caroline' captured hearts globally. In the endearing homemade video – directed by Daniel himself – we watch as he rides around his hometown with a squad of friends, hanging out of a moving car, rapping about the mystery titular woman.Fast-forward four years, the dreads are longer, the cars are faster and the video budgets have grown ostensibly (see here: the accompanying visuals for recent single 'Riri'). But the heart of what makes Aminé so idiosyncratic remains intact: his charisma and wit; his ability to take a decent hook, an infectious beat and pair them with a wildly distinctive approach to rap visuals that takes heed from the golden era of MTV."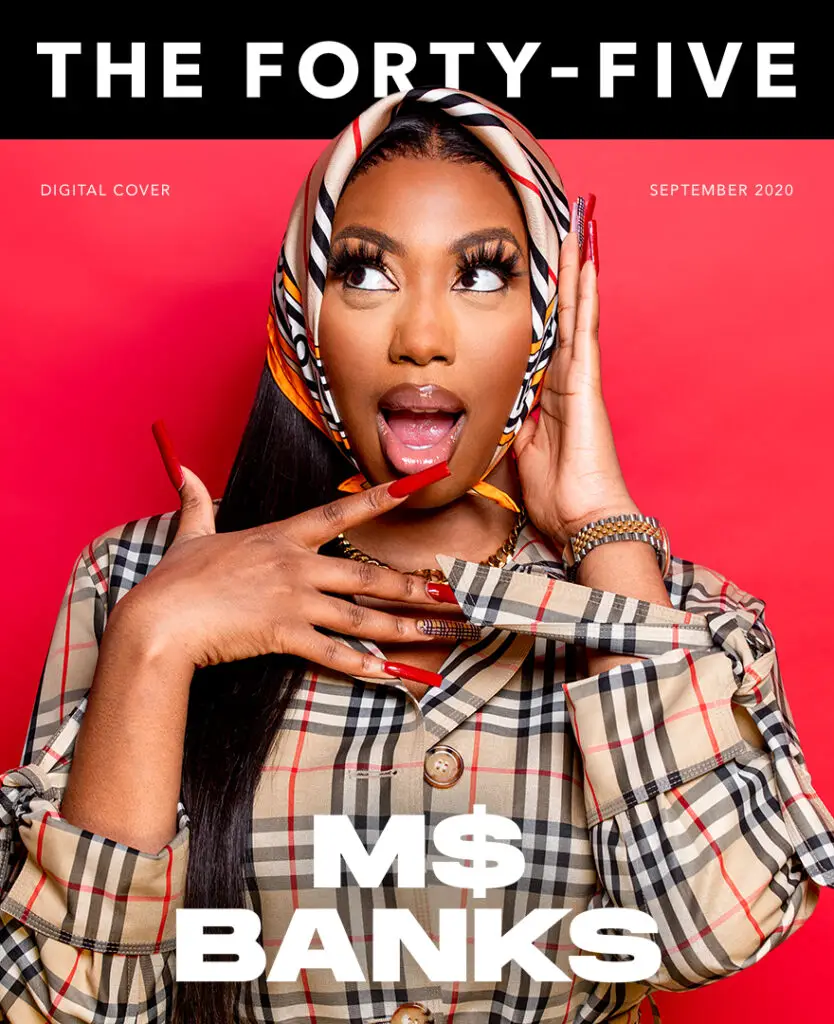 The Forty-Five:
Cover: Ms Banks on glowing up, sex-positivity and the spirit of South London
Banks is also clear on what she'd tell her younger self if she had the chance to: "Just don't listen to the outside world, you know? Sometimes people are not gonna believe in you but you need to keep believing in you." Standing tall at around six feet barefoot, ("I was 5 '8 when I was 12"),  there's an inherent prowess to the wordsmith that makes it hard to imagine she ever had doubts. When asked how much of her energy as an artist she attributes to growing up south of the river, the answer is short and sweet: "All of it." She repeats the three words twice more before unpacking.
"The street-wise, the hustle, my taste in food, in men, all of that," she lists. "The swag, the way we talk, that's all south London. I feel like there's a little side of me that's really soft and calm and nice, and that's something I've naturally had in me since I was a child but everything else? Everything else is south."
Wonderland:
Kojey Radical profile
Natty Kasambala meets Kojey Radical, the eclectic renaissance man bringing a richly textured new sound to the British rap game and beyond.
Complex UK:
Roses Gabor is striving to be the water, not the wave
"Gabor's tone, tempo and surrounding production have always demonstrated the wide-spanning nature of her voice and message, and the same rings true on Fantasy & Facts, her 11-song debut album. On this record, she laces her opulent vocals as convincingly over the bass-filled funk beats of her previous discography as she does over stripped back, tinkering pianos and synth-heavy jams. From the sweetly triumphant, romantic confessional "I Could Be Yours" to the infectious dance bop "Turkish Delight", or the intimate and stirring ballad "Perfect Magnitude", this project is a deeply nourishing exploration of the British-Grenadian artist's wealth of tenderness and range."
i-D:
Exclusive first listen to Knucks' new single 'Jubilee'
In the age of self-isolation and reflection (read here: overthinking), music has become an even more crucial escape from our fantastically ordinary lives before — and hopefully after — coronavirus.
Marking the start of his 25th year on the planet, Knucks's new single "Jubilee" is a triumphant retrospective of the journey so far. Taking on a newfound optimism in the current climate, it's bound to have you reminiscing on your own summers past with hopeful energy. Jam-packed with nostalgic orchestral samples, cheeky nods to the immigrant experience and even a snippet of Stormzy's Glastonbury speech, it's definitely one to be blasted from the speakers and/or headphones in moments of need.
Dazed:
"Straight out of the gate, we are thrown into the action in The Name I Call Myself. A child's running feet pound the pavement in slow motion for a few brief seconds before transporting us to a breathtaking funeral scene. The cameras move slowly with intent as they track two figures contorting and arranging their bodies fluidly in front a still mourning crowd and a mound of dirt, all while the string-filled soundscape swells and intensifies.
It's an undeniably strong opening from 23-year-old visual artist Rhea Dillon, who is exhibiting the piece which doubles as her final university project, as an installation for a limited three-day run in a small space on London's Bateman's Row. Equipped with curated scents of the diaspora by perfume brand Byredo and funeral flowers by Sage Flowers, commemorating 'Myself' in floral lettering, it's an encapsulating experience."
Beautiful images of what being Black, British & Muslim means 
"The title of the series, Poly-, mirrors the all-encompassing nature of Shaw's own cultural positioning – both in its actual Greek meaning of "many" or "plural", and in the open-ended nature of the prefix itself. With named pieces playing on the boundless possibilities, such as Polyglot, meaning speaker of many languages, Polypnea, defined as rapid panting, and Polydipsia, meaning excessive thirst, the series spans Shaw's quest for sexual liberation, the isolation of language barriers and anxiety in the face of impossible expectations, as well as much more."
How to take up space in a man's working world
"While women in positions of power have become an actual thing that actually happens within actual companies and corporations in actual real life, it's also a relatively new thing. Meaning it's often hard to find role models, or simply a female counterpart to turn to when you need a bit of advice. And Otegha Uwagba knows all too well how it feels to be in this position."
Blues & Soul:
Khalid: The A Teen – Cover Story
"So often you hear the saying that youth is wasted on the young, but with the release of Khalid's debut album American Teen at the ripe old age of 19, the first impression you get is that he's utilising every morsel of it. The teen singer shifted into popular consciousness with modern day love song "Location", after posting the track online in May 2016. The tune perfectly encapsulated romance in the digital age with lines like "I don't want to fall in love off a subtweet, so let's get personal" and carved out a unique space for his music, striking a clever balance between the realms of R&B and pop's universal youth appeal. The very same track that sparked critical recognition for the artist has now amassed almost 70 million streams on Soundcloud alone, never mind its Platinum certification or the 370 million streams on Spotify since its official release as a single."
gal-dem:

Introducing Rai-Elle – the refreshing new voice of UK R&B
"It's not often that an X-Factor finalist leaves the show and goes on to release a music video where the settings include – in an authentic, not gentrifying way – what looks like South London black hair shop and an abundance of black girl joy and friendship. But from her intimate lyrics and to her distinctly London charisma and style, it's clear that Croydon-grown singer Rai-Elle was destined to transcend beyond her televised launch pad."
Introducing Vagabon: 'This is who I am. My music is what I'm offering.' – Taken from print issue no.2
"Meet Vagabon, the Brooklyn-based singer, producer and musician, who released her critically acclaimed album Infinite Worldson Father/Daughter Records earlier this year. Fresh from a European tour with a sold out date in London and a spot supporting Tegan and Sara, there is no doubt that she is a force to be reckoned with.
The brains, hands, and voice behind the project is Lætitia Tamko, a Cameroon-born New York-bred 24-year-old with the collected coolness of all your faves combined and a set of pipes to match."